High-Tech Sealing Solutions & Components To Meet Your Toughest Engineering Challenges
Engineers, OEMs and distributors choose ZAGO high-tech, clean sealing solutions and components to protect and maximize the performance and resilience of their mission-critical high-value and complex equipment while confidently meeting military – grade specifications, environmental regulations and inustry standards (i.e. NEMA).
Attached is a ZAGO Product Comparison Chart, which succinctly explains our product lines. You may also read below, and for a deep dive, head to the Products section of the ZAGO Website or Contact Us and a ZAGO products specialist will happily assist you.
Self-Sealing Screws
ZAGO self-sealing screws are the pinnacle of the ZAGO portfolio. Manufactured specially by ZAGO, these screws contain a powerful, built-in O-ring that creates an effective 360 seal around the screw, preventing contaminants from seeping into a device, and preventing hazardous substances from leaking into the environment. ZAGO produces a number of different types of self-sealing screws, including: Self-Sealing Machine Screws, Self-Sealing Socket Caps & Hex Bolts, Self-Sealing Tamper-Proof Screws, and Special Seal Screws. The type of equipment produced dictates the kind of self sealing screw required.
Engineers who need highly durable, reliable and leak-proof fasteners depend on ZAGO self-sealing screws. For example, designers and operators of fuel tanks use ZAGO products to contain and prevent fuel leakage. Electronics manufacturers prefer ZAGO sealing screws to ensure dirt, moisture and other contaminants do not leak into their devices and damage them. The applications for ZAGO self-sealing screws are endless and perfect for protecting engines, motors and equipment, ranging from aerial drones and satellites to aircraft and cars.
Seal Nuts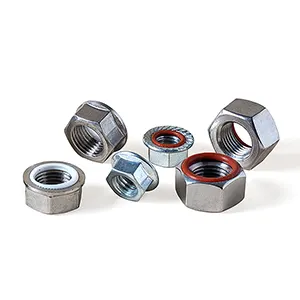 ZAGO self-seal nuts, much like sealing screws, create a total seal in the otherwise most vulnerable parts of machines, tanks, motors and equipment. ZAGO seal nuts have a built-in O-ring that gives the seal nut the 360 degree sealing protection, enabling it to perform under a variety of circumstances. ZAGO manufactures four kinds of seal nuts: High Acorn Nuts, Low Acorn Nuts, Heavy Hex Seal Nuts and Hex Flange Nuts. Custom seal nuts are also available to fit exact specifications.
ZAGO self-sealing nuts are critically important, and they replace ordinary nuts when complex machinery and equipment may be exposed to damaging elements, such as pressure, oil, water and extreme temperature, hot and cold. Some customers use ZAGO self-sealing nuts to properly secure hydraulic and fuel systems, while others use them to protect invasive medical instruments from exposure to bacteria and viruses.
Switch Boots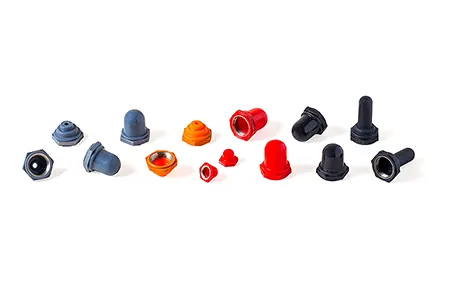 Switch boots, unlike sealing screws and nuts, are designed only to seal things out. Switch boots are used to protect electronics switches of every kind, including, push buttons, toggles, and rotary switches. Switches are highly sensitive electronic parts that are vulnerable in the face of moisture, dirt, oxidation and contamination of any kind. If damaging particles get into a switch, then an entire device or machine can shut down. It's crucial to protect switches with covers that seal out damaging substances and protect against vibration or pressure. With ZAGO seal-proof switch boots, switches remain clean and functioning optimally. ZAGO offers a number of switch boots, including: Toggle, Push Button & Rotary, Sealing Washers, Multi Switch Panel Covers, Circuit Breaker Cover & Boots and Rocker Switch Boots.
ZAGO switch boots are perfect for protecting electronic switches used underwater from the damaging effects of salt water, wind and bacteria, and in petroleum equipment where they may need protection from oil intrusion. ZAGO ultra-durable rubber switch boots fortify equipment dramatically and ensure optimal performance for years.
Crystal Seals
ZAGO crystal switch seals, much like ZAGO switch boots, act as shields against external contamination. Unlike switch boots, crystal seals are crystal clear in color to allow optimal visibility, and they are perfect for covering and protecting multi switch panels. ZAGO produces the following types of crystal seals: Tactile & Dip Switch Seals, Circuit Breaker Seals, Rocker Switch Seals, Full Panel Seals, and Special Rubber Products.
Crystal seals are needed whenever oil, acid, radiation or oxidation threaten the integrity of switches. Producers of military and aerospace equipment, for example, need to keep switches defended in harsh environments, and, likewise, engineers and manufacturers of marine and boating equipment need optimal switch functioning in the face of salt water, dust, and more.
The Ultimate Shield Against Leaks – On Sea, Land, Sky Or Space
All ZAGO high-tech sealing solutions and components are designed and built to fortify machinery and electronic equipment against oil, water, pressure, contamination, oxidation, radiation, chemicals and more. Machines that necessitate screws, nuts and bolts should be constructed using ZAGO's sealing screws, sealing bolts and sealing nuts. Electronic equipment in which switches are exposed to the outdoors should be fortified with ZAGO switch boots and crystal seals.
ZAGO clean, sustainable, custom high-tech sealing solutions and components ensure that expensive, complex equipment functions properly for years to come. Ordinary fasteners (screws, nuts and bolts) allow leakage, and uncovered switches quickly degrade and disrupt proper machine functioning.
The results can be catastrophic, such as, petroleum tanks leaking toxic substances, or motor boat failure due to saltwater intrusion via switches.
Don't wait for issues to arise. Let's work together to solve real and potential sealing challenges, and ensure the safety, longevity, and performance of mission-critical equipment. Contact Us.