Whether for Indoor or Outdoor Adoption, Engineers & OEMs in Commercial Lighting Choose ZAGO High-Tech Sealing Solutions, Components for Optimal Performance, Sustainability
As the demand for and adoption of more energy and cost-efficient, sustainable lighting solutions continues, and technologies, such as artificial intelligence, big data and machine learning assume a greater role in smart lighting, engineers and OEMs specializing in the commercial lighting sector are counting on ZAGO high-tech, clean, custom sealing solutions and components for their durability, green properties and unlimited shelf life.
The ZAGO Difference – Self-Sealing O-Ring
ZAGO high-tech self-sealing fasteners are engineered with a groove under the head of the fastener or in the face of the nut that when combined with a rubber O-ring and tightened, forms a leak-proof seal against the incursion and expulsion of liquids and gasses, including water, fuel and petroleum.
Smart Enough for Intelligent Light Fixtures / Sensors
Intelligent light fixtures, which attach to an interconnected network, contain sensors to detect occupancy, ambient light, and temperature that can lead to a reduction in energy use of HVAC and lighting systems over time. But sensors are sensitive! They contain microcontrollers and electronics that can be easily damaged by the infiltration of water, dust and other contaminants. ZAGO's sustainable high-tech sealing solutions and components are impervious to moisture, dust and dirt, and are designed to protect the most fragile sensors.
NEMA Ready for NEMA Bound Electrical Enclosures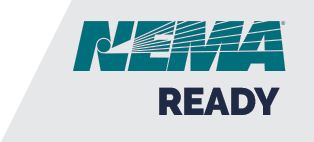 ZAGO clean, high-tech sealing solutions also prevent invasive environmental hazards from intruding into electrical enclosures. ZAGO fasteners meet the security and environmental requirements of NEMA (National Electrical Manufacturers Association) enclosures – the electrical enclosures used in industrial applications. ZAGO's sealing solutions and components support a wide variety of electrical enclosures, including outdoor commercial lighting, LED lamps, ballards and fixtures.
Fast Facts
Did you know ZAGO:
High-tech fasteners are reusable, tamper-proof and made of corrosion-resistant metals, like stainless steel and steel alloys, titanium, brass and monel.
Offers rubber O-rings made of silicone, fluoro-silicone, viton, neoprene, buna, teflon, and EPDM.
Has been serving the commercial lighting industry 25+ years.
Provides samples and usually ships product within two days.
Has a near zero rejection rate.
Sealing solutions and components are inherently green and made in the U.S.A. at a sustainable facility powered by solar energy.
Is an ISO 9001 registered company, qualified to meet the most exacting demands of engineers and OEMs using verified standards and procedures for product quality.
Serves thousands of engineers and OEMs worldwide.
Clients include Visionaire Lighting, GE, Energy Recovery Inc., U.S. Airforce, U.S. Army, U.S. Navy, Raytheon, Teledyne Marine, Ferrari, Caterpillar, Punch Powertrain, Apple, HP, Bose, L3 Communications and Konsberg.
ZAGO proudly meets these certifications & standards: