ZAGO Associates Jonathan Cruz and Aly Damacela Persevere During Pandemic, Attain Degrees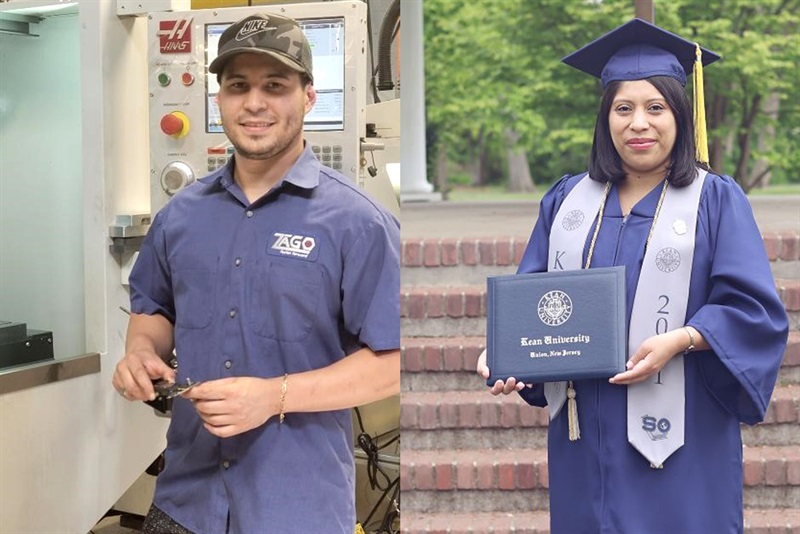 ---
---
ZAGO Manufacturing Co. a sustainable sealing fasteners manufacturer in Newark, NJ, is pleased to announce that Jonathan Cruz, Lead Machinist and Robot Specialist, and Aly Damacela, Marketing Coordinator, Training and Development Manager, have earned degrees while working full-time and during a pandemic!
Jonathan earned his degree in Manufacturing Technology, Spring 2021, from Bergen Community College. Jonathan is utilizing his degree to optimize manufacturing, product development, and inspection.
Jonathan's degree is particularly special to him because, "It gave me an opportunity to learn the latest manufacturing techniques and put them into practice while working at ZAGO."
"ZAGO has supported me every step of the way," says, Jonathan. "Paying full-tuition and accommodating my work schedule so I could take the classes required to achieve my degree."
Jonathan's words of inspiration, "It's never too late to achieve your goals, and appreciate the people who support and believe in you along the way."
Aly Damacela earned her Bachelor of Science, Marketing, Spring 2021, from Kean University while working full-time and raising a family. Aly has been applying her marketing knowledge throughout her career at ZAGO.
Aly's degree is particularly important to her because it was a long-term goal that she achieved during COVID-19. "This past year has been full of challenges, juggling virtual classes, homeschooling my son, working remotely. Despite these challenges, I made it!"
"My family and ZAGO have been my biggest cheerleaders. They worked around my crazy schedule, and ZAGO paid my college tuition. I will be forever grateful!"
"The most important lesson I can impart is that no one can take away your dreams and goals. Keep working hard, and let your accomplishments be the noise of your success," says Aly.
"We are very proud of Aly and Jonathan and thrilled that we could help them," says Gail Friedberg Rottenstrich, CEO and Co-Founder of ZAGO. "We use the term 'continuous improvement' in manufacturing, mostly when referring to production and process improvements. However, it extends to employees. When they thrive, we thrive."