Low Acorn Nuts That Break Conventional Limitations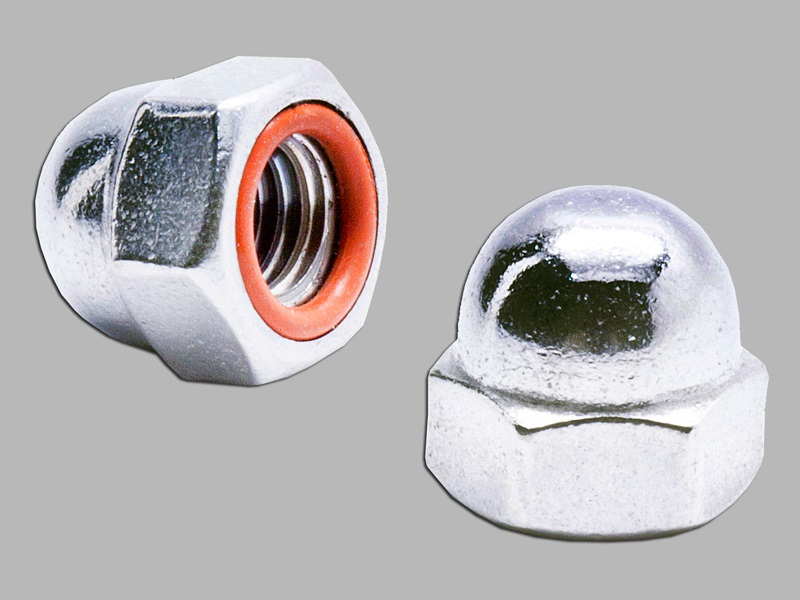 ---
---
ZAGO is pleased to offer you exceptionally tough low acorn sealing nuts, powerful hardware used by the leaders in the military and in industrial sectors. When leaks are a problem due to pressure, vibration and environmental forces, opt for ZAGO's top of the line acorn nuts for the ultimate line of defense. Experts all agree that ZAGO's low acorn nuts offer the best level of sealing protection. These devices may look like ordinary low acorn nuts from the outside, but in fact, they are so much more than ordinary.
When torqued, these pieces of hardware form a virtually unbreakable seal around your fasteners. This is due to the fact that ZAGO low crown acorn nuts feature a special rubber fixture that's fused permanently to its threading. Regular low acorn nuts lack this element, and are thus far more likely to cave into leaks and contamination. ZAGO self sealing nuts can be customized to suit your project exactly. ZAGO can manufacture these acorn nuts using a variety of different materials, according to your preferences. Moreover, they are reusable, and require neither installation preparation nor clean up.
These unique low crown acorn nuts are actually compatible with just about any kind of environment, and function exceptionally together with all surface materials. The seal nuts create a seal in every direction with metal to metal contact. ZAGO uses the absolute highest quality materials to engineer seal nuts, and ZAGO's low acorn nuts will certainly outperform those of the competitor due to their unbeatable resiliency. Each nut ZAGO produces undergoes rigorous testing using advanced testing equipment.
Don't risk leaks–defend your mission critical equipment using ZAGO's self sealing acorn nuts. Whether you operate on the battlefield, in the operating room, underwater, under gaseous pressure or virtually anywhere else, invest in ZAGO low acorn nuts to enjoy the highest level of performance from your equipment. Replace those ordinary low crown acorn nuts with the ZAGO's powerful sealing low crown acorn nuts. Get in touch with the company today to learn more.