Unbeatable Security in ZAGO's Hex Flange Nuts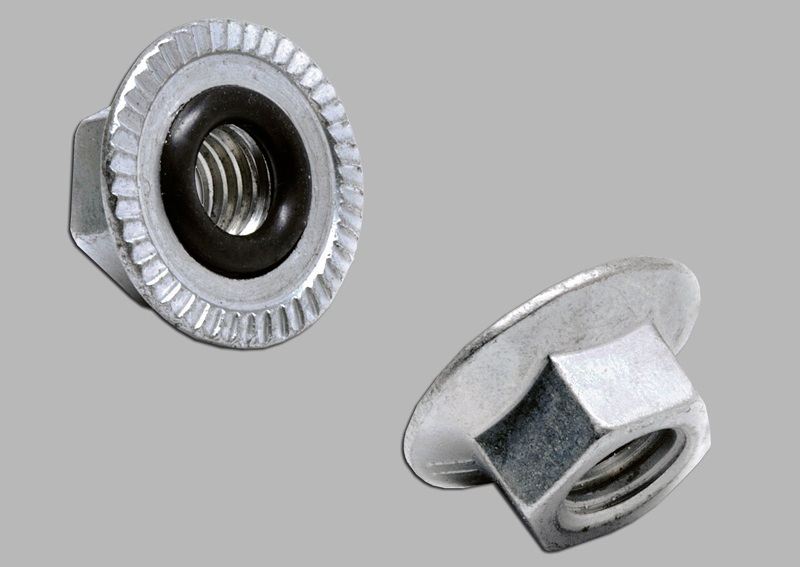 ---
---
ZAGO's Hex Flange Sealing Nuts are superbly powerful devices that create the ultimate seals. Whenever equipment operates in environments in which pressure, vibration, contamination, or other harsh factors are present, it's key to replace ordinary hex flange nuts with ZAGO's self sealing hex flange sealing nuts. ZAGO's hardware is unique since it features a built-in rubber element. When ZAGO's hex flange nut is torqued, the rubber element within subsequently forms an airtight seal within the bolt's threading.
The hex flange nuts can be customized to suit your company's needs perfectly. They are effective in virtually any kind of environment, and operate superbly even in extreme temperature ranges. Use ZAGO's hex flange nuts just as you would ordinary nuts, since they necessitate zero preparation hassle or clean up. Their one-piece design is aesthetic and sleek, and you never need to use any sort of messy chemical substances with ZAGO's sealing nuts. Reuse the nuts multiple time, and see excellent performance each time. ZAGO's sealing hex flange nuts are crafted using steel and rubber.
ZAGO's heavy hex flange sealing nuts grant you the ideal sealing solution you need in a variety of circumstances. They deliver you 360 degrees of sealing strength within metal-on-metal contact. These ready to use pieces can be relied upon even if the toughest of environments. ZAGO's engineering team is happy to assist you in choosing the ideal hex flange nuts for you equipment, so don't hesitate to get in touch with ZAGO today to speak with a specialist.
Join the thousands of expert professionals in a variety of sectors who count on ZAGO everyday for the best sealing solutions. If you are using ordinary hex flange nuts, rather than ZAGO's hex flange nuts, then your equipment will likely wear down quickly due to environmental factors. Don't take risks–upgrade to ZAGO's hardware, and fortify your equipment for years to come. ZAGO's hex flange nuts are the affordable and reliable solutions to your sealing problems.