Use ZAGO Ultra Resilient High Acorn Nuts To Block Out Leaks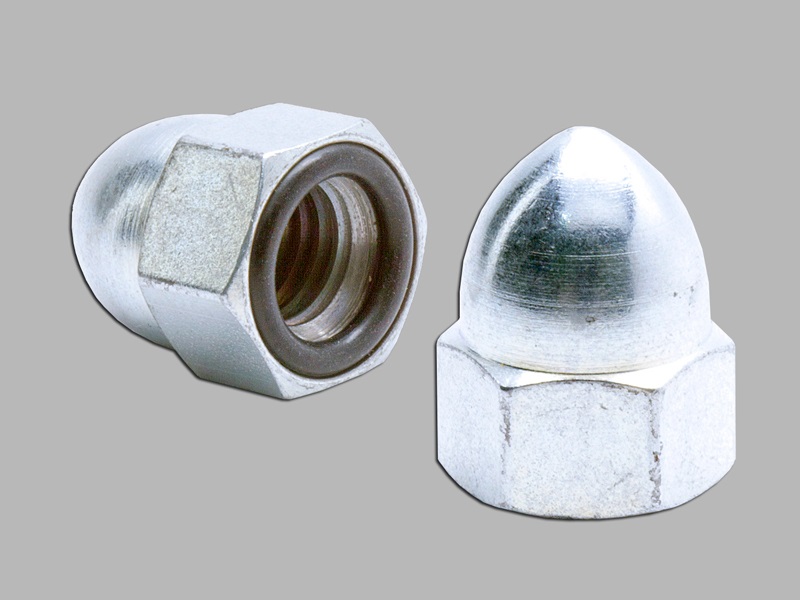 ---
---
ZAGO's exceptionally powerful high crown acorn sealing nuts must be used in place of ordinary nuts in cases in which vibration, pressure, contamination and any type of leakage is of concern. Ordinary nuts simply can't stand up against harsh natural forces, whereas ZAGO's high crown acorn nuts can. These unique high crown acorn nuts are require zero maintenance and can be reused multiple times. For the ultimate level of sealing security plus great convenience, opt for ZAGO's sealing high crown acorn nuts.
Environmental factors such as pressure, vibration and contamination can cause ordinary nuts to cave and let leaks in or leaks out. ZAGO's high crown acorn nuts feature a unique rubber element that is bonded permanently to the threading of the nut. When the ZAGO high crown acorn nut is torqued, it creates a watertight and airtight seal about it. Thus, with ZAGO's high crown acorn nut, you can be certain that nothing will leak in, and, likewise, nothing will leak out, even in the face of vibration or pressure or contamination.
ZAGO's sealing nuts can be customized to suit your needs perfectly, and are aesthetically pleasing by design. They also cover projecting bolt threads thoroughly. If your equipment is exposed to harsh environmental factors, then ensure that you are using ZAGO's high crown acorn nuts, rather than ordinary nuts, which won't provide you with enough protection against leaks. Once a leak happens, your entire system could go down, disrupting all of your operations. Don't take risks with leakage–fortify your equipment with ZAGO's high crown acorn nuts.
ZAGO's self sealing nuts can be used in just about any kind of environment, and are compatible with virtually any surface type. Their high engagement capacity with bolt threading makes them extremely strong and resilient. Just use them as you would an ordinary nut–but see extraordinary results! These pre-assembled high crown self sealing acorn nuts will grant you the ultimate sealing protection. Avoid leakage risks and avoid having to resort to messy chemical substance to achieve sealing power–Use ZAGO's ultra resilient high crown acorn nuts and witness your equipment performing at its best.