ZAGO Taps Manufacturing Talent in Newark, New Jersey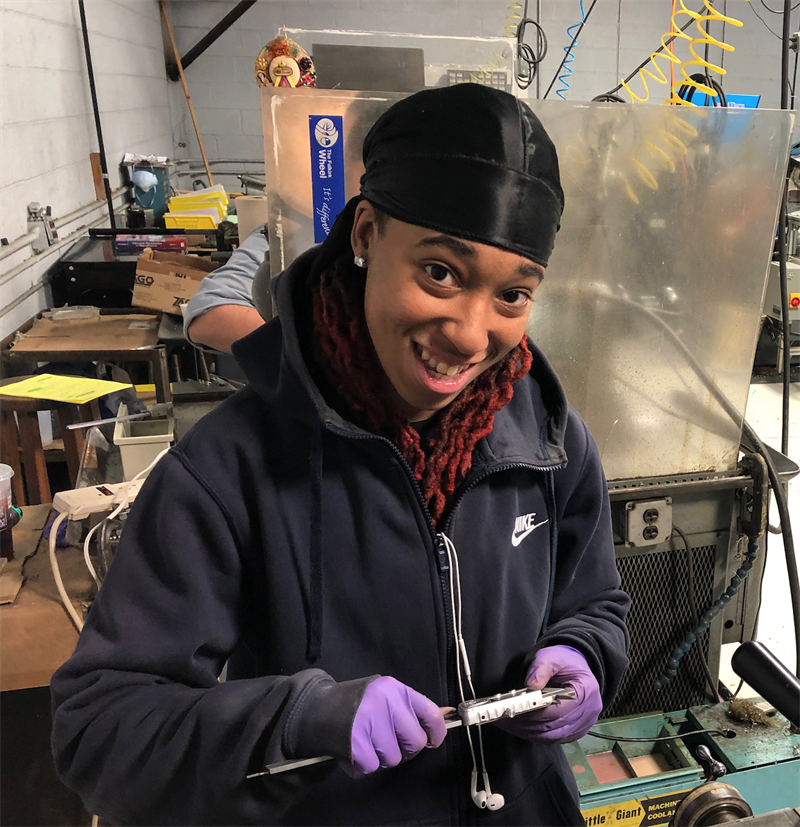 ---
---
Win-Win for Brick City Manufacturers, High Schools, Students, including New Hire Yasha Turnage (above)
Manufacturing is alive and kicking in the Brick City. Just ask ZAGO Manufacturing Co., a 25-year old global producer of sustainable high-tech sealing solutions and components. ZAGO got its start in the NJIT Business Incubator Program in 1993, and what began as a one-person shop has evolved into a global business serving the likes of Google, Ferrari, BOSE and Apple from its state-of -the-art production facility on East Runyon Street.
While ZAGO has enjoyed year over year growth, there is one nagging challenge that could hamper success over the long-term: the unavailability of both skilled and unskilled manufacturing talent. In true entrepreneurial fashion, and in accordance with its ethos as a purpose-driven company, ZAGO has launched ZAGO Sustainability 360 a social impact program to address the manufacturing talent shortage and provide Newark youth with viable pathways to well-paying employment and job security.
"Most New Jersey residents are surprised to learn that the average annual compensation wage for a manufacturing employee in New Jersey is $90,000*," says Gail Friedberg Rottenstrich, CEO, ZAGO Manufacturing. "With close to 300 manufacturers in Newark, we have an opportunity to link tomorrow's workforce to high-paying jobs that are literally in their backyards and have the ability to propel them to the middle class. Partnering with local high schools is among the best ways to reach and train young talent."
Under its ZAGO Sustainability 360 umbrella, ZAGO addresses education and gender disparity, economic security, job creation and environmental concerns. In early 2019, ZAGO launched its first Sustainability 360 program with Newark Tech Vocational School, hosting recurring field trips to its manufacturing facility and offering two scholarships to graduating 12th grade students who thoughtfully addressed the question: What is Advanced Manufacturing, and how can it be used as a force for good?
"Introduces low income students to the whole gamut of STEM and manufacturing careers – from the assembly line and engineering to sales, marketing, the C-suite and more," notes Jackie Luciano, Vice President of ZAGO Manufacturing. "We had so much fun hosting the field trips and watching students faces light up as they toured the manufacturing floor and witnessed a robot making our product, that we looked for opportunities to expand the program with other schools in Newark."
In September 2019, ZAGO expanded its Sustainability 360 program with Cristo Rey Newark High School, offering internships to two high-potential students. The experience has been nothing but positive for ZAGO, the students and Cristo Rey. Also in September 2019, ZAGO hired its first employee through the Schools That Can Newark Advanced Manufacturing Career Pathways Program at West Side High School program and will be sending that student to NJITfor training through its Advanced Manufacturing and Mechatronics Training Programs offered in the NJIT Makerspace.
"It is exciting to work in manufacturing," says Yasha Turnage, a ZAGO new hire and recent graduate of West Side High School, where she completed the Schools That Can Newark program. "The other day, I watched ZAGO self-sealing fasteners being made for prosthetic limbs. That was cool! I like that ZAGO is manufacturing sealing solutions that make a difference in the world."
"We cannot be prouder of Yasha. She was a great member of our program and is a reminder to us of why the work we do is so important for our youth, their families, and our community at large," says Erin Sweeney, Executive Director of Schools That Can Newark. "The success of career pathways programs depends almost entirely on the companies who partner with us to guide students and alumni into related careers. ZAGO has proven to be an incredible partner, and we are grateful that they hired Yasha, a member of the first graduating class from our program."
Continues Jackie Ross, Vice President of Advancement, Cristo Rey Newark High School, "We are thrilled to have ZAGO Manufacturing as a corporate partner." Cristo Rey has over 60 partners throughout New Jersey, exposing our students to many professional opportunities, but ZAGO's involvement makes a unique and critical statement. It says, "The manufacturing industry in New Jersey, and specifically in Newark, sustains a dynamic vitality that can provide you with a profitable, interesting and challenging career." ZAGO is more than a corporate partner to us; it's a key to the future. The only thing that exceeds our gratitude is our excitement!"
"What gets me most excited about working at ZAGO Manufacturing is being able to make sense of what is going on around me," says Jewel Aryee, Sophomore, Cristo Rey Newark High School. "For example, when I hear phrases like socket cap and groove, I wouldn't typically know what they mean, but being at ZAGO has helped me learn those terms quickly."
"I'm excited to work at ZAGO because I get a window into what engineering is all about," says Zinnah Dousuah, Junior, Cristo Rey Newark High School.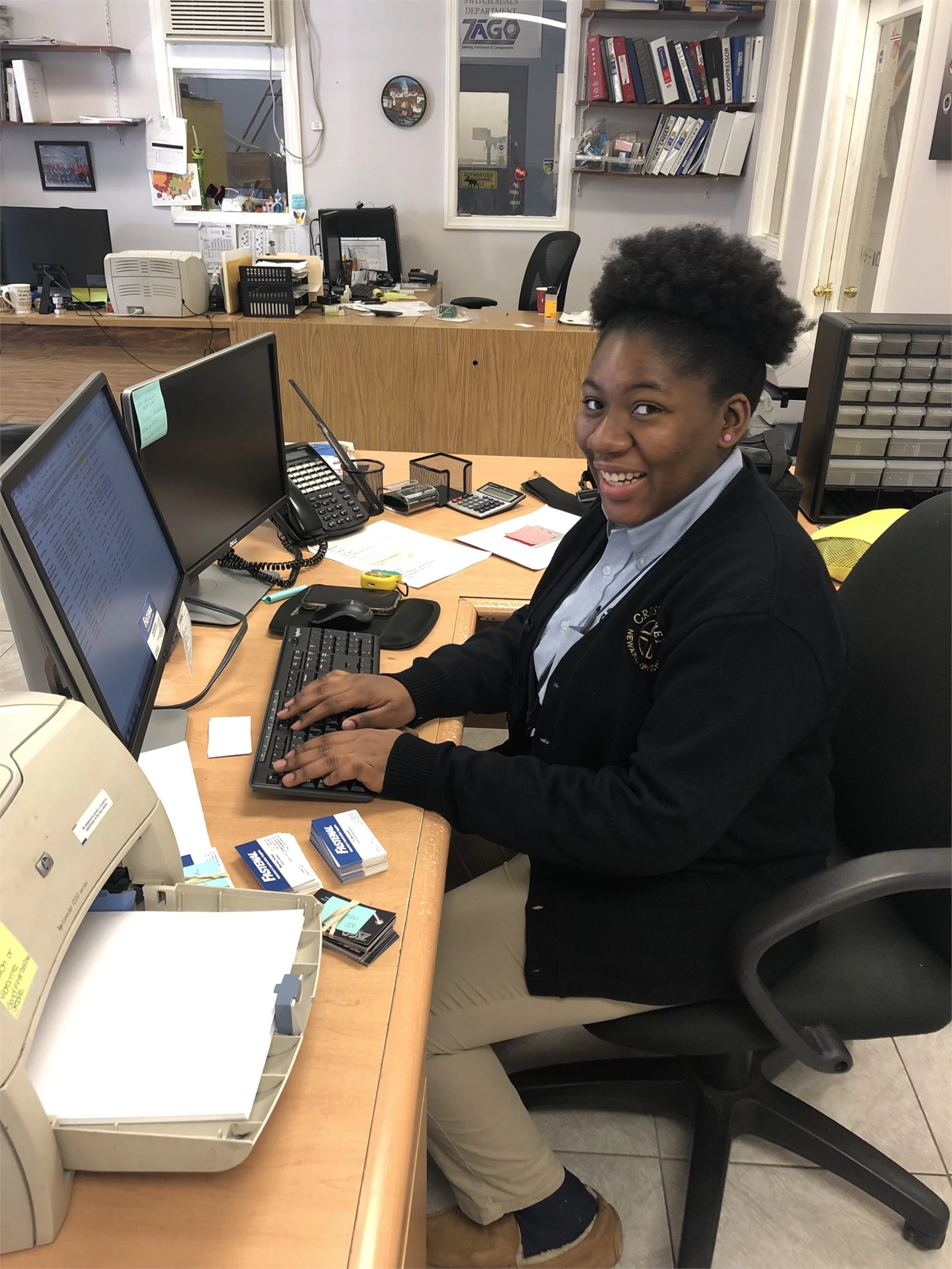 "When it comes to establishing a pipeline of manufacturing talent in the Garden State, we are at the tip of the iceberg," says Friedberg Rottenstrich. "However, we are inspired by the high caliber of students and schools operating in Newark, and we look forward to finding employment solutions together."
About Cristo Rey Newark High School
Cristo Rey Newark High School is part of the national Cristo Rey Network – the only network of high schools in the country that integrate four years of rigorous college preparatory academics with four years of professional work experience through its Corporate Work Study Program. The high school serves and prepares urban young people with limited economic resources and educational options for a lifetime of academic and workforce success. Since its first graduating class in 2011, 100% of graduates have been accepted to four-year colleges, and they have earned more than $50 million in awards and scholarships.
About Schools That Can Newark
Schools That Can helps high schools – like Newark's West Side High School – build out career pathway programs that align to CTE standards. This includes navigating curriculum options and helping build mentorship and internship programs. Further components and include college credit opportunities with local community colleges and Bridging the Education to Employment (e2e) Gap Program that offers job shadowing and builds career awareness.
About ZAGO Manufacturing:
ZAGO Manufacturing Co. is a Newark-based family-owned business that develops and manufactures custom, high-tech sealing solutions and components. ZAGO 's products are used by engineers in countless industries: aerospace, transportation, medicine, robotics, construction, electronics and more. Clients span the world and include major military contractors, Ferrari, Google, Tesla, BOSE, Lockheed Martin, HP and others.
* Source: Annual Salary $90,000, National Association of Manufacturers State Facts